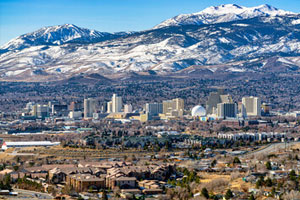 Landmark Title is continuing its expansion in the Southwest. The company recently announced the opening of a new branch in Reno. The Landmark Title Reno office is located at 1755 E. Plumb Lane, suite 260, near the Reno/Tahoe airport. Landmark opened its first office in Nevada in July 2020 in Las Vegas.
As the company continues to open new offices throughout Arizona and Nevada, they are growing their team of seasoned professionals. The company recently named Greg Hulett as President of Landmark Title Nevada. Hulett is a graduate of the University of Nevada, Las Vegas where he earned
a degree in real estate. Prior to being hired to lead Landmark Title's Nevada division, Hulett has spent more than 15 years in the industry where he worked his way up from managing director to president.
Hulett hired two new Senior Escrow Officers, ​​Donna Presto and Rachel Spracklin to spearhead growth in Reno. Presto has worked in title and escrow for more than 27 years. Moving from San Francisco to Reno in 2017, she's continued to help clients successfully close their real estate transactions. Spracklin is a Nevada native and brings more than 30 years of industry experience to the team. Presto and Spracklin previously worked together at another firm.
Landmark Title employs a team of highly experienced title and escrow professionals that are available to answer questions. Contact us to learn more about our services and to find the nearest branch.